I know you guys are all super conscious about your health, nutrition, hydration, and taking care of yourselves so you can perform at your best.
I know many of you take supplements and various sports performance products too, because we all know that we need supplementation to perform at peak levels. I was always taking random stuff and trying different things to find what could help me improve my running (so was Jon….but we had different goals). I know I've tried all kinds of energy shot blocks, gels, sports drinks, etc. I even took straight caffeine while training for my marathons…(the same amount as drinking 2 cups of coffee)….so I could wake up to run before school.
I SO WISH I would have known about Advocare before my races!! I guess all the more reason to run another, right?? Do you remember that I started cramping the last six miles of both the Savannah Marathon and the Miami marathon?? SO FRUSTRATING when you are well trained, have the muscle and cardiovascular endurance to finish strong, but can't because of cramping! (even though I tried to hydrate, carb load, and give my body proper nutrition prior…) I KNOW I could have knocked out a sub 4 if I had known about these products then!!! I'll definitely do it at some point. Maybe that will be one of my 2013 goals!
Here are the supplements that absolutely ROCKED my world and took my fitness to a whole new level this summer when I was training so hard. Unlike all the other products I have taken in the past, I noticed an immediate, obvious difference (in strength, endurance, speed, and recovery) and have heard the same from everyone else who has trusted me enough (or is desperate enough for something that works) to try them!
My faves & what they do:
BEFORE:
Spark® Energy Drink
KEY BENEFITS:
Enhances mental energy and focus*
Provides support for long-lasting energy*
Helps fight occasional drowsiness*
21 vitamins, minerals and nutrients
Sugar-free and only 45 calories
Helps reduce free radicals*
IS THIS YOU?
Someone who has trouble waking up or feels "energy slumps" throughout the day
Someone who can't work up enough energy to live life the way you want
Someone who is looking for a more nutritious alternative to coffee, soda or other energy drinks
O2 Gold™ Advanced
KEY BENEFITS:
Helps facilitate the body's use of oxygen*
Helps restore vitality and liveliness*
Helps the body adapt to stress*
Increases oxygenation to cells*
Helps increase and maintain energy levels*
Supports muscle building and recovery*
Provides antioxidant activity to counter the effects of free radicals*
Supports the body's immune system*
Contains easily digestible whey protein
IS THIS YOU?
Someone who needs to boost your physical activity level
A casual or elite athlete looking to enhance your training program
Someone who wants nutrition that will help prevent the effects of stress
Someone who wants to support your muscle growth and endurance
Catalyst™

KEY BENEFITS:
Helps maintain muscle mass during exercise and weight management*
Helps support post-exercise muscle repair and recovery*
Aids in preserving muscle and energy levels during times of calorie restriction*
Supports mental energy and focus*
Contains branched-chain amino acids and L-glutamine, L-arginine, betaine, and taurine
IS THIS YOU?
Someone who needs to preserve muscle even when you've restricted your caloric intake
Someone wanting to improve your fitness regimen by enhancing strength and endurance
Someone needing an added boost to your current weight-loss program
Someone who wants to tone, define and preserve your lean body mass
Arginine Extreme

KEY BENEFITS:
Helps support nutrient delivery to muscles*
Helps promote short-term increases in nitric oxide levels*
Provides and nourishes the precursors necessary for muscle growth and recovery*
Provides excellent support for cardio workouts*
Helps enhance strength and stamina, especially when used with AdvoCare® Muscle Fuel*
Nourishes a healthy respiratory system*
Helps maintain a healthy cardiovascular system*
Helps support healthy blood pressure levels already in the normal range*
Aids in maintaining a healthy, efficient immune system*
IS THIS YOU?
Someone who wants to increase the effectiveness of your workouts
An athlete looking for increased muscle endurance and tolerance
Someone concerned with your cardiovascular health
Someone looking for increased support for aerobic activity
DURING:
Rehydrate
KEY BENEFITS:
Helps the body stay hydrated during physical activity
Provides a full spectrum of crucial electrolytes for improved electrolyte balance
Includes amino acids to help feed your muscles
Fuels your body with carbohydrates for energy production and sustained muscle endurance
Contains antioxidants to fight free radicals commonly produced during exercise
Helps prevent cramping during and after exercise
IS THIS YOU?
Someone who wants to sustain hydration and energy during physical activity
Someone who wants a superior sports drink
Someone who wants to enhance your exercise regimen
Someone who wants a healthy drink for everyday use
Rehydrate Gel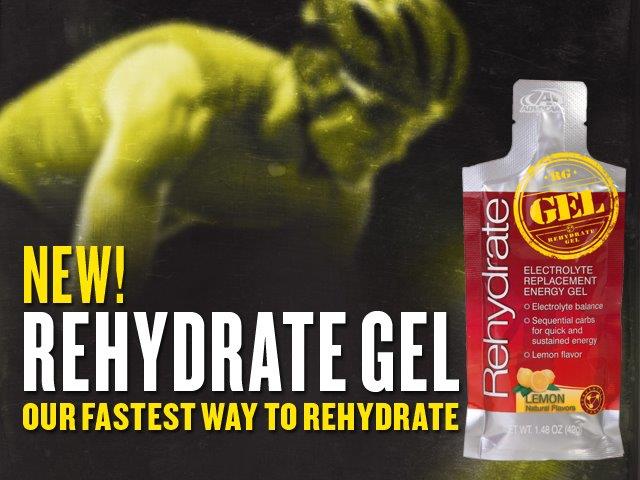 KEY BENEFITS:
Encourages optimal performance through electrolyte balance
Allows for immediate and sustained energy with Sequential Carbs
Facilitates hydration in conjunction with plenty of water
Lemon flavor with only 80 calories
On-the-go portable and convenient pouch
IS THIS YOU?
Endurance athletes (runners, cyclists, swimmers, triathletes, etc.)
Team sport athletes (baseball, soccer, tennis, basketball, etc.)
Anyone desiring a great source of electrolytes and carbohydrates
AFTER:
Post-Workout Recovery

KEY BENEFITS:
Helps minimize muscle soreness
Optimizes muscle recovery
Supports muscle metabolic processes
Enhances physical performance and endurance
Helps maintain and restore energy supplies during and after physical activity
Supplies essential components for muscle repair
Contains high-quality protein to support muscle gain
Provides antioxidants to help fight free radicals
IS THIS YOU?
Someone who wants to minimize the soreness experienced after exercising
Someone who is looking for better muscle recovery
Someone who wants to enhance your current exercise and/or weightlifting program
Someone who wants to gain lean muscle mass
BEFORE BED:
Nighttime Recovery

KEY BENEFITS:
Enhances muscle growth repair and recovery when taken after exercise*
Supports the production of growth-related hormones naturally produced in the body*
Helps the body withstand and respond to physical stress during and after exercise*
Enhances energy production and utilization, thus helping the body to sustain higher workloads before the onset of fatigue*
IS THIS YOU?
Someone who regularly exercises or participates in weight training
An athlete who wants to improve your training regimen
Aging senior who wants to build and retain muscle mass
I would not recommend something unless I believed in it 100% and experienced awesome results with it myself. Like I said, I have lots of other runner & biker friends who all swear by them now too. It is DEFINITELY worth trying these products and I recommend this regimen specifically if you're looking for an edge or a boost with your workouts.