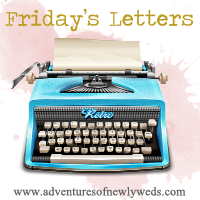 Dear House

…..

I miss you. You are so pitiful right now….I can't WAIT till you are back to normal!!! I get the saying "There's no place like home" now more than ever.
Dear Workouts

….

I am super proud I haven't skipped even ONE of you, even with all the chaos going on around me!!
Dear Dairy Queen

….E

ven though you're trying to sabotage my clean eating/no sugar streak with this Confetti Cake blizzard of the month nonsense….I don't hate you. Just thought you'd like to know.
Dear Tebow

….

I am SO PUMPED to see you tonight!!! (And of course hear all the words of wisdom you have to share.) I hope I'm able to get on stage and meet you. I think you'll be sad Jonathan found me first….haha!!
Dear Summertime

…..

PLEASE, PLEASE hurry!!! 9 more days feels like a lifetime!
Dear weekend

….

HALLELUJAH! SO nice to see you!!!
Have a FABULOUS weekend!!!